Shipping Your Handpieces
Below are two items you will need to print out to get your handpiece to us. You may click on it to open the form and print it. The work order form is also "fillable" if you open it in Adobe Reader® so you can use your keyboard and mouse to fill in the information.
How to send us your handpieces
Step 1: View, complete and print our Work Order Form
Step 2: View and print our pre-paid USPS Shipping Label
Step 3: Put the complete Work Order and the items to be repaired in a box.
Step 4: Affix pre-paid USPS Shipping Label to box, seal and drop off at USPS.
Work Order Form
Please print this out to give us an idea of what is wrong; what you would like done; and if you prefer a free estimate first.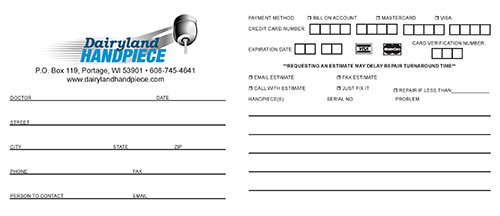 USPS — Pre-Paid Shipping Label
Cut this label out and tape it securely to any sturdy box you have in the office.Just give this to your US Postal Carrier and we should receive your handpieces the next day. We would also be happy to send a box with everything you need!
You will be redirected to the USPS website where you will need to enter your information and follow the instructions to print the label. The RMA field is optional and not required.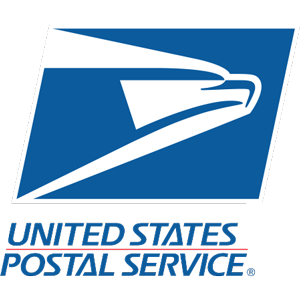 UPS — Pre-Paid Shipping Label
Please email me at: [email protected] and include the following information in the email:
Contact Person
Office name and address
Telephone
Email — if you prefer the UPS label emailed to you