About Dairyland Handpiece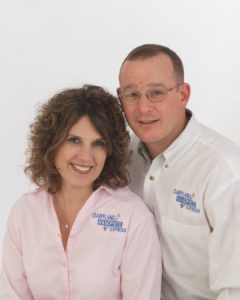 Kevin and Angie Zarecki founded Dairyland Handpiece in 2002, after Kevin spent sixteen years in manufacturing engineering. Kevin's background in engineering is put to use daily to diagnose and repair handpieces. Angie's organizational and computer strengths keep the business running smoothly. Angie is also a full time teacher in the
School District of Westfield
. They have serviced thousands of handpieces for hundreds of satisfied customers. Both Kevin and Angie are dedicated to the concept of a convenient, local repair service with a one day turnaround.
Kevin and Angie would like to thank you for visiting their website. They look forward to maintaining and exceeding your repair expectations.
What Sets Us Apart
Handpiece repair is what we do:
We repair almost any type of air-driven or electric handpiece. We save you money by rebuilding the handpiece turbine when the bearings go out, instead of you purchasing a new turbine every time. On high speeds we carefully remove the old bearings and replace them with brand new bearings that meet all manufacturer specifications. We replace all O rings and any other components too worn for proper performance. If it is not advisable or safe to repair your turbine, we may recommend replacing it. We have a complete stock of new Original Manufacturer turbines for all major brands. We provide full factory service for Star®; Midwest®; Kavo®; Lares®; Micro Motors®; NSK®; Champion; and MTI.
Here's what we don't do:
We do not take out your expensive original turbine and replace it with a generic piece of junk! In my opinion, most generic aftermarket turbines are inferior to the manufacturer's turbines and are virtually disposable. If you paid a lot for a high quality handpiece, why would you take the turbine out and throw it away just because it needs repaired? That is like putting a Yugo engine in your BMW! Yet this is just what many handpiece "repair" places do. They are untrained and unskilled, and are only able to replace your precision turbine with an inferior substitute. Make sure you know what you are paying for, and you are getting what you are paying for!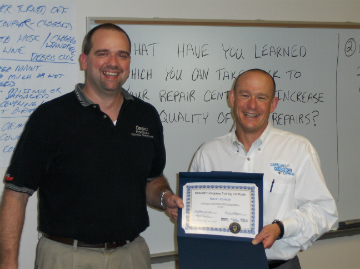 Midwest Factory Trained & Certified Technicians
Kevin participated in intensive factory technical training at the corporate headquarters of Midwest Dental Products in York, Pennsylvania.
Kevin spent three days with the Midwest training team, learning advanced repair techniques for the latest models of Midwest handpieces.
At Dairyland Handpiece, we stock a full line of genuine Midwest® replacement turbines and repair parts. We will ensure that your Midwest handpiece is repaired correctly, with the full factory warranty, and returned to you quickly.